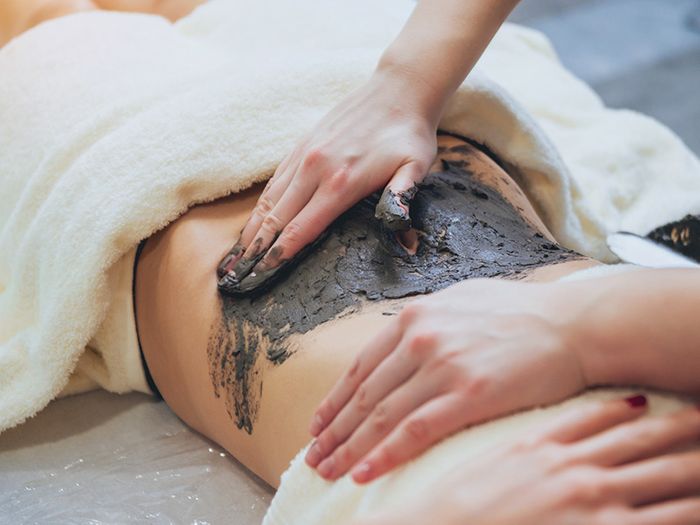 Body Care Services
We offer a unique and luxurious experience with body care services that are sure to leave you feeling relaxed and rejuvenated. From body wraps to body polishes, there is something for everyone.
Decadent Cashew, Argon Oil, and Dark Chocolate Body Wrap
35 min $95
A scrumptious spa offering! Imagine yourself enveloped in rich, luscious chocolate. This antioxidant, anti-aging natural detox treatment will satisfy your body's hunger for replenishment and revitalization and leave your skin hydrated, nourished and irresistibly soft and smooth to the touch including a mini tension-relieving facial massage.
Black Mud
40 min $95
Relax as we wrap your body in black mud. Incredibly rich with therapeutic minerals from the ancient resort frequented by cleopatra, and today by millions of visitors in pursuits of natural beauty and relief from psoriasis, rheumatism, eczema and muscular pain. Soothing, beautifying and rejuvenating, this treatment includes a mini tension-relieving facial massage.
Seaweed Wrap
50 min $100
Revitalize! This body wrap with seaweed, rich with minerals and antioxidants, helps to rehydrate your skin, balance and renew the skin by eliminating toxins and tension. This treatment will leave your skin looking radiant and velvety smooth, and includes a mini tension-relieving facial massage and hand, feet treatment.
Dead Sea Body Polish
35 min $95
Re-energize as your skin is gently buffed with a rich blend of sea salt minerals and essential oils to remove dead cells and impurities, as well as improve circulation. You'll look radiant and feel as soft as a baby.
What our customers are saying
"Truly a gem on Route 1."
"My friend and I went for the Hammam Express together and it was so rewarding. She really went to work on my skin, and it's so smooth now. And nothing beats the refreshing feeling of hot steam while drinking some ice cold sparking water. I had gone to visit a hammam when I was in Morocco, and this experience was just as good! Truly a gem on Route 1. Thank you!"
- Kell S.
"Definitely returning. Often."
"Amazing, relaxing, rejuvenating experience. Owner and staff are just the best. This hammam experience was even better than the one I had in Marrakesh. So excited we found this incredible little gem of a place! Definitely returning. Often."
- High Rise Wellness Services
"You'll be glad you went here!"
"This spa experience was extremely relaxing and felt amazing. The women working there were very attentive when applying the treatments and during the exfoliation. The spa is very clean and the atmosphere is very calming. I especially enjoyed the sauna and the exfoliation parts of my session. I walked out feeling like a new person. You'll be glad you went here!"
- Christie L.