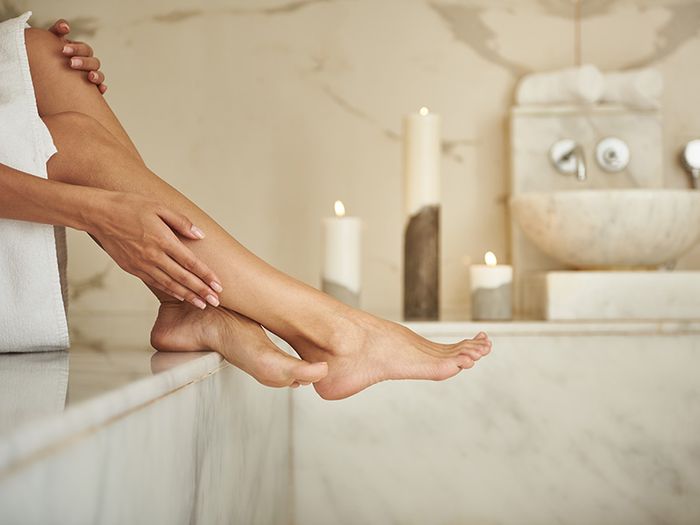 Hammam Services
Enjoy the relaxing experience of our Hammam rituals and packages.
Hammam Express
25 min $95
Lavender black soap, body exfoliating with kess (mitt).
Hammam Beldi
45 min $135
Cleansing with black soap, full body scrub with kess, application with henna with herbs, and body hydration with argan oil.
Royal Hammam
60 min $199
Custom detox herbs, Eucalyptus black soap body cleansing, full body scrub with kess, (break: fresh organic ice tea with berries) organic soap foam massage with essential oils, detox scalp, custom hair treatment, and full body hydration with our exclusive argan oil cream.
Ultimate Detox Retreat
$450
Royal hammam ritual, custom facial, cellulite treatment and organic custom green juice.
Wafa Signature Package (Fassi)
$590
A remarkable ritual experience that consists of a series of calming treatments that will return you to your most human roots, deep, strong, energized Hammam steam. Moroccan gommage (scrub with keese head to toe), detoxifying ghassoul (infused rose petal) custom facial, 24k gold eye and lip treatment, hair mask savonage (light foam massage on a heated marble slab), blow-dry and make up. Also spa lunch.
One and Only
$325
The Moroccan Hammam comprised of a traditional kese mitt body polish, foam massage and a body wrap in a ultra nourishing argan oil cream. Be left with smooth, soft skin, hair treatment, custom facial, fresh green juice.
Loofah Body Polish
$180
Using loofah, fine dead sea salt and orange oil, your skin is vigorously exfoliated using gentle massage techniques, hair treatment and a blow dry.
Beautiful Afternoon Tea Package
$350
Starting with custom herbs detox applied all over the body, followed by a cleansing with aromatic black soap, head to toe exfoliation while laying down on a heated marble table expect bucket of warm water to cleanse your body then we apply moroccan argan infused with orange blossom all over the body to moisturize your skin , 30 min hydrafacial treatment is performed by an esthetician who is been doing facials for over 25 years. A wide variety of mini sandwiches and organic teas are available.
What our customers are saying
"Truly a gem on Route 1."
"My friend and I went for the Hammam Express together and it was so rewarding. She really went to work on my skin, and it's so smooth now. And nothing beats the refreshing feeling of hot steam while drinking some ice cold sparking water. I had gone to visit a hammam when I was in Morocco, and this experience was just as good! Truly a gem on Route 1. Thank you!"
- Kell S.
"Definitely returning. Often."
"Amazing, relaxing, rejuvenating experience. Owner and staff are just the best. This hammam experience was even better than the one I had in Marrakesh. So excited we found this incredible little gem of a place! Definitely returning. Often."
- High Rise Wellness Services
"You'll be glad you went here!"
"This spa experience was extremely relaxing and felt amazing. The women working there were very attentive when applying the treatments and during the exfoliation. The spa is very clean and the atmosphere is very calming. I especially enjoyed the sauna and the exfoliation parts of my session. I walked out feeling like a new person. You'll be glad you went here!"
- Christie L.